AWS is one of Australia's leading designers and suppliers of aluminium window and door systems. Our brands of exterior joinery, include Vantage Aluminium Windows and Doors, ThermalHEART™ and Elevate Aluminium Systems, which are well regarded in the Australian Construction industry and are manufactured throughout the country by a network of independent manufacturers. As a market leader in its product segment, AWS recognises the importance of seeking to achieve 'best practice' status on a range of environmental management issues. The quest for excellence in practices that affect economic and environmental sustainability is a 'journey' rather than a destination, and the company recognises that 'green' initiatives will be part of its strategy over the long term.
Elevate Aluminium Window and Door systems are extruded locally from Aluminium. Bauxite, the ore of aluminium, is an abundant component of the earth's crust. The smelting of aluminium and the extruding of aluminium profiles require large amounts of electricity, and this gives aluminium windows a high 'embodied energy'.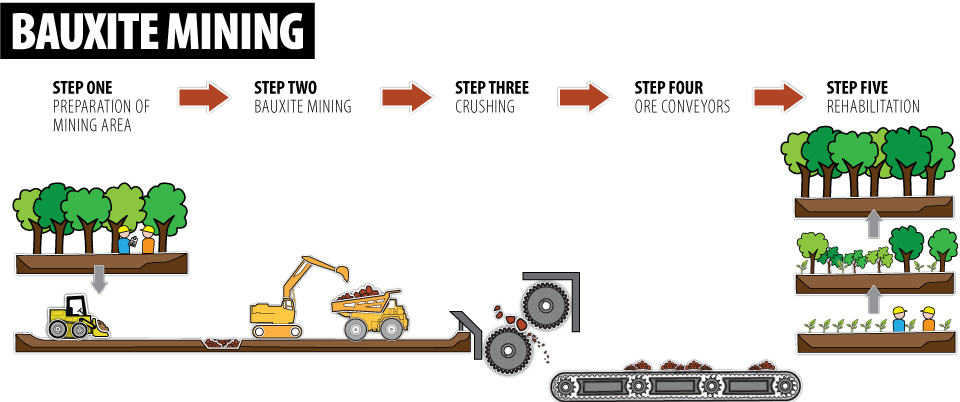 Aluminium is the third most abundant element in the Earth's crust, but does not occur as a metal naturally. The first step in producing aluminium is mining its ore – bauxite. Image courtesy of http://aluminium.org.au
Aluminium can be recycled indefinitely. Recycled aluminium accounts for one-third of global consumption. Even more encouraging, there is considerable scope for the recycled content of global production to be increased. In addition, studies have indicated that aluminium and timber windows typically last for more than 40 years, while PVC only has an optimum life of 25 years.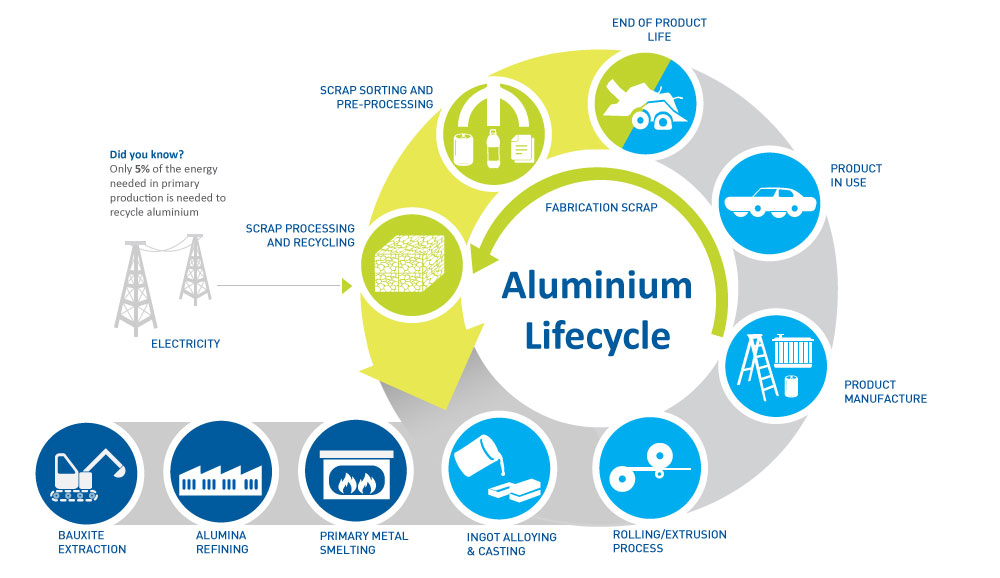 The beauty of aluminium is that it "lives on" – it can be recycled endlessly back into either the same or other aluminium products. Not only is the aluminium conserved but the various alloying elements like copper, magnesium, manganese, iron and others are also retained. The diagram of the lifecycle of aluminium shows how aluminium is conserved and recycled. Image Courtesy of http://www.hulamin.com/about/aluminiums-lifecycle
Aluminium windows are uniquely strong, lightweight, ductile and corrosion-resistant. Aluminium is also an excellent conductor of heat. By thermally breaking an aluminium window frame we can maintain the properties that make aluminium indispensable to the commercial building industry. Added insulation attributes also overcome issues associated with high conductivity, i.e. unwanted heat gain and loss to the building envelope.
ThermalHEART™ is our innovative, thermally broken range of high performance, energy efficient windows and doors. ThermalHEART™ systems incorporate a polyamide strip which minimizes the transfer of heat and cold through the glazing system.
The inclusion of a polyamide strip substantially improves the thermal performance of the window system. Used in conjunction with double glazing, ThermalHEART™ thermally broken aluminium window and door systems can significantly reduce the requirements for artificial heating or cooling in commercial buildings, thus lowering a building's long-term energy requirements.
ThermalHEART™ thermally broken aluminium window and door systems are designed, tested and manufactured by Australia's largest and most geographically dispersed network of independent window and door manufacturers. This reduces the environmental burden associated with importing and transporting similar systems from the USA, Asia and Europe. We believe that aluminium windows and doors, particularly those which incorporate ThermalHEART™ technology, offer an excellent sustainability solution for commercial green buildings.