Select from a wide range of powder coat finishes to achieve a look which is perfect for your project.
With ThermalHEART™ systems you even have the option to select different colours for the interior and exterior of your windows and doors.
Never before have you had such flexibility in finish selection for windows and doors. With ThermalHEART™ the choice is yours.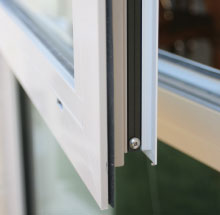 ---
Single Finish
If you would like to achieve the same finish for your joinery inside and out, select from any of the following Primary ThermalHEART™ finishes.
Dual Finish
To utilise different finishes, select from the Primary ThermalHEART™ Finishes for external and the Dual Colour options for internal finishes.
Select any finish below where a single finish is required or as the external colour of a dual finish combination
Primary ThermalHEART™ Finishes
Select any finish below as the internal colour as part of a dual finish combination
Dual ThermalHEART™ Colour Internal Finishes
The delivery time and cost of the finishes available will vary depending on your choice. Please obtain a comprehensive quote from your ThermalHEART™ fabricator prior to placing your order.
Finishes displayed on this web page are a guide only. Variance in colours displayed by screens and monitors make it impossible to display accurate colours. Colours displayed have been matched as closely as possible to production standards under daylight conditions.
Over time, performance may vary between COLORBOND® steel and powder coated ThermalHEART™ joinery due to the different paint technologies used.
Architectural Window Systems (AWS) is a licensed Qualicoat applicator, ensuring all Vantage Aluminium and Elevate™ Aluminium Systems Joinery is finished in accordance with AS 3715.